Veneers In Washington, D.C.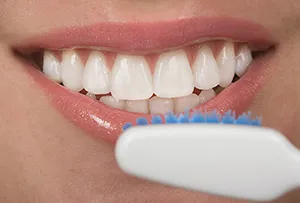 In just two or three dental visits, a veneer can reverse years of stains caused by foods, caffeine and tobacco use. Special thin laminates, called veneers, can also be used to correct discolored, worn down, cracked and chipped teeth. Veneers can also be used to close unsightly gaps between teeth. Stronger types of veneers made of porcelain, also called composite veneers, typically last longer because they are bonded to the tooth.
An impression of the tooth must be made and a veneer molded by a lab technician. Because veneers require a small amount of enamel to be removed, they are permanent and non-reversible.
The process involves buffing the tooth, removing an extremely thin layer of the tooth to allow for the thickness of the veneer, an impression of the tooth, and final bonding of the veneer to the tooth with special cement. A special light is used to complete the process.
Veneers hide imperfections
Veneers are thin pieces of porcelain that are attached to the front surfaces of teeth. Although they're no thicker than a fingernail, veneers easily conceal a range of dental flaws, including:
Slight gaps between teeth
Chips
Discolorations due to tetracycline use, large fillings or root canals
Crooked or oddly shaped teeth
Short teeth
Whitening your smile is easy with veneers
Eating and drinking brightly colored foods, such as coffee, tea, wine, cola, popsicles, and berries can stain your teeth. Although teeth whitening can improve the appearance of your smile, the results must be touched up occasionally, and whitening may not lighten your teeth quite as much as you expected. Veneers provide long-lasting results and allow you to choose the shade of white you prefer.
To learn more about dental veneers in the Washington, DC area
Call Ralph T. Mazzuca, DDS at (202)537-1088 today!